The Cardboard Party Table
A different Cardboard Party Table for every occasion. These party tables are made from honeycomb cardboard and are 100% recyclable. After use, the tables can either be reused, or can be recycled along with any other paper and/or carboard materials.
Cardboard Party Table specifications
Reusable and 100% recyclable
Lightweight, strong and stable material
Quick and easy to assemble and disassemble
Table top is personalized with a print of your brand or a creative visual
Delivered as a flatpack for compact transport (4 tables per pack)
Strong visibility for your brand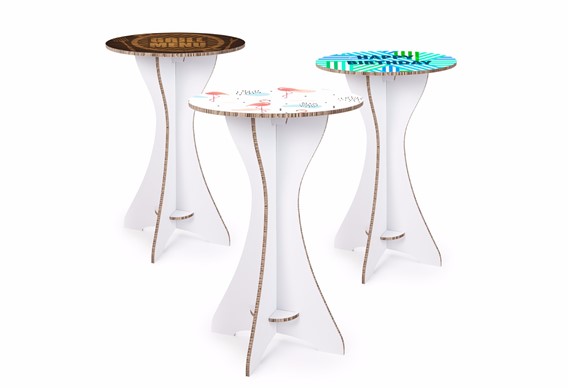 Lightweight, easy to carry, stable and strong
The party tables are exceptionally light and easy to carry, while at the same time being stable and strong. They are delivered as a flatback in a practical box (four tables per box).
Printed with your logo or photo
We personalise the table top of this Cardboard Party Table with your company logo or photo.