Perfect dimensions for use on Heras and Betafence fences
The dimensions of our banners perfectly match the dimensions of the standard Heras and Betafence site fences. The entire fence is covered by the material, giving you a stunning banner with a high degree of visibility for your advertisements.
Construbanner use
Construction sites / building and real estate projects
City events and festivals
Construbanner specifications
Custom-designed to fit Heras and Betafence site fences (340 x 176 cm)
Increased privacy due to a diminished view into the site from outside, prevents intrusion by unauthorised persons
Dust and dirt repellent, thanks to the PVC coating
Perforated material, 30% wind permeable
6 m2

 

visibility for your brand and advertising
Belgian quality, production and finish
Short delivery period: 4 working days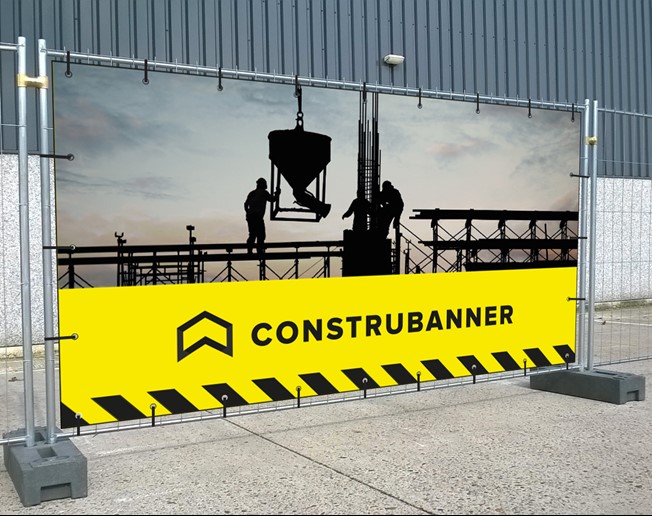 Multiple site banners with different design? The same price as one single design
The price of our site banners is solely based on the number of banners purchased, and not on the number of different designs. In other words, whether you buy 25 different banners or 25 identical banners, you will pay the same price.
Design by our team or your own design?
Do you have your own design? Great! We will ensure the perfect implementation of your design onto the banner. Or perhaps you don't have your own design? No problem: if you wish, our team can produce a creative design for you.
Belgian top quality
Our site banners are manufactured in Europe and printed and finished in Belgium. All our site banners are made from a high quality technical textile with PVC coating, and are 30% wind permeable. Thanks to the perforated material, the banners have the advantage of not catching too much wind: this makes them ideal for use on the gates and fences around event and festival sites, construction sites etc. What's more, no less than 22 rings guarantee perfectly secure fastening of the banner to the fencing.